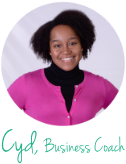 Join Cyd, Your Sweet Business Coach, as she explains key business terms in easy and fun ways to understand. Most bakers and sweet makers in this industry are accidental entrepreneurs. Most never received any formal business training or know much about business outside of how to make a delicious product.
This series was created to help give bakers and sweet makers a solid understanding of terms that are most commonly used in business. The point of this series is to help the Sweet Community get a better understanding of the ins and outs of business and to gain knowledge about how these terms can impact or help grow a successful business.
If you want to boost your confidence and knowledge in the area of business, enroll in this lecture series today.